INFORMATION
NOONBARRA

KELPIES
TV, EXHIBITIONS AND MOVIE WORK
Noonbarra Working Kelpie Stud has given numerous exhibitions over many years. We have had working display stands at a lot of the major Agriculture Shows in Australia such as the Australian National Field Days and Mudgee Small Farm Days and the Pet Expo in Canberra. We have also given demonstrations for the Wool Board, Schools, The Scout Association, Tourist groups etc. We have done movies, T.V. commercials and Studio ads. We have a lot of fun with the Kelpies and have toured around the country and worked in sheepdog trials in South Australia, Tasmania, Queensland and New South Wales.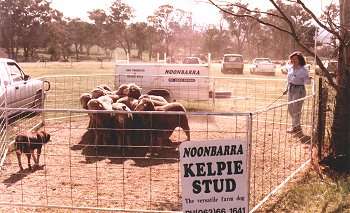 Mary Bilson giving a demonstration at the Australian National Field Days
---
We have done a few TV commercials with Noonbarra Gabe, Noonbarra Judy, Noonbarra Dusty III, Noonbarra Cassie, Noonbarra Jackaroo, Noonbarra Flash and Noonbarra Tina. Other Noonbarra bred Kelpies that have done TV commercials and Movies are Noonbarra Bindi and Noonbarra Butch. We also worked in the film 'The Fighting Creed' and one of our Noonbarra Kelpies had a major part in an Australian movie called 'No Worries'. Noonbarra Bindi was also featured in the movie 'Jessica'.
In 'No Worries', Noonbarra Gabe had a starring role as the old retired sheepdog called 'Dingo'. He was a young girls companion but because of a severe drought they were forced off their property and had to live in the city. Along with Noonbarra Gabe we used Avenpart Gayleen as his doggy girlfriend and also as a double. Noonbarra Boss II was used as a standby and background dog.
Noonbarra Gabe worked extremely well in the movie and had to do a number of strange and unusual things. He was always a fantastic dog to work in films. He seemed to understand want he had to do and would do take after take without complaint. He often got lots of nice compliments from the crew.
In one scene he was supposed to be an old retired dog who gets into a sheep yard and stirs up the sheep. Originally they wanted him to run across the backs of the sheep and as he was an expert at this in yards, it would be a breeze. However, when the film director saw him work he felt he looked too energetic to be an old dog. With only a few minutes to go until shooting, they asked if I could get him to come in at a certain point, squeeze through the old wooden fence (not over it) and kick up a lot of dust stirring up the sheep. All without going out of camera range. At first of course he wanted to jump over the fence but I showed him what I wanted and within 5 minutes he could do the scene wonderfully.
Also in the film he had to be in a wild storm that does untold damage and is the major scene in the film. They used huge aircraft propellers and dolomite (as dust) mixed with leaves and expected him to stand at his log kennel and take it. Surprisingly he did. The noise was unbelievable. They had to use a truck air horn to signal cut because shouting could not be heard. Gabe trusted me completely and moved back and forth as I directed him with my hand signals. All the time the dust and rubbish was hitting him in the face. I was very proud of his work that day and happy that we had such a good dog-handler relationship. The camera man was amazed that he worked so well under those conditions. Everyone gave Noonbarra Gabe a big pat for a job well done.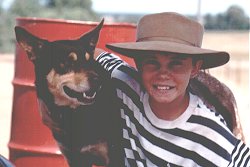 NOONBARRA GABE & AMY TERLICK
IN THE FILM
'NO WORRIES'.
The hardest scene on the film was teaching him to bark on the back of the truck. In the film he was supposed to be barking at dogs sitting at an outback pub (Hotel) while he was travelling past. The hard part was that he had to run to the front of the tabletop truck to just behind the cabin and then stare off to the left and start barking. Of course during the filming he had to bark at nothing because there was no hotel really there. I actually thought we couldn't do it but he just seemed to understand and we got some really good footage although in the movie it wasn't an important scene at all!
After the film, Gabe become a little depressed. He was no longer the centre of attention with hundreds of people patting him and needing him. All the crew and actors spoiled him. After a while he learned to settle back into everyday life. The local newspaper did a story on his film work and he was invited to a school to show off for the children while Mary and myself gave a talk on dogs and the film.
As in most movies a number of his best scenes were cut in the final print which was a bit disappointing but as the same happened for the other actors, I suppose we can't complain.
Gabe was a friendly dog but more a dog that attached himself only to a special number of people he liked. When he worked on the film "No Worries" he was particularly fond of the screen writer, David. David was a gentle man who had dogs at home in Britain and he become great mates with Gabe. Amy, the girl who played Matilda in the film also got on with him well.
---
Like his grandson, Noonbarra Gabe, the famous Liscannor Pace was also once the star of a movie. The movie was called 'Manganinnie' and was released in Australia in 1980. Pace played a large part in the film in which he befriends an Aboriginal women and a lost white girl. In the film he helps to protect them on their journey through the harsh wilderness of Tasmania.
---
Noonbarra Gabe's son, Noonbarra Butch was also a bit of a star. When he was only 12 months of age he was approached by the Toyota car company to be filmed working cattle to be shown in a TV commercial.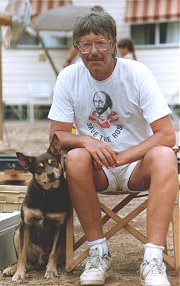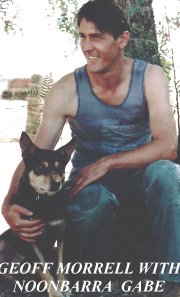 PHOTOS ABOVE.
Screenwriter, David Holman and Noonbarra Gabe became great friends during the weeks of shooting.
Well known Australian actor, Geoff Morrell with Noonbarra Gabe
---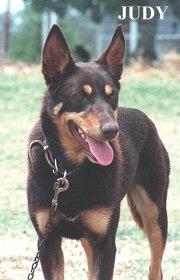 NOONBARRA JUDY
Worked on TV commercial for Holeproof socks
---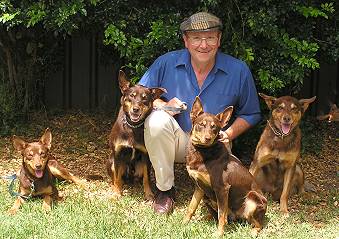 Well known TV personality Dr. Harry Cooper with from left;
Noonbarra Jackaroo, Noonbarra Flash, Noonbarra Cassie and Noonbarra Dusty III.
---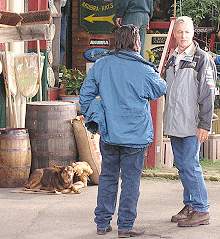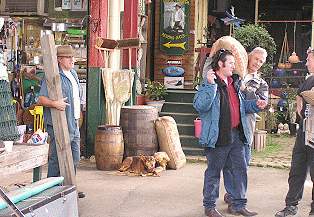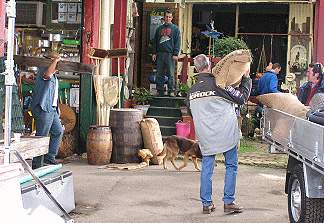 Noonbarra Dusty III working with Peter Brock in Holden car TV commercial.
---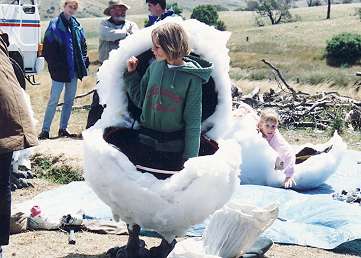 TV ad with Noonbarra Gabe for underwear at Bathurst.
The child in the photo is a giant cotton ball.
---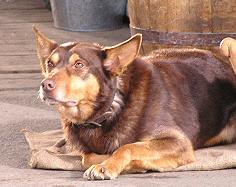 Noonbarra Dusty in TV ad.
---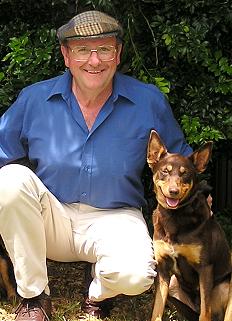 Dr. Harry Copper with Noonbarra Cassie
---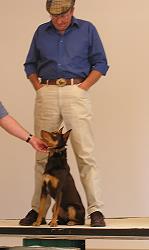 Dr. Harry working with Noonbarra Cassie in a Supercoat commercial
---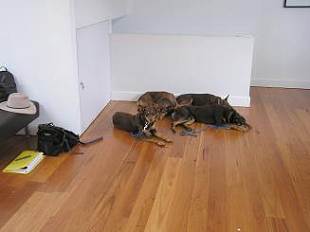 Our Kelpies, Noonbarra Flash, Cassie, Dusty and young Jackaroo are very well behaved in the studio.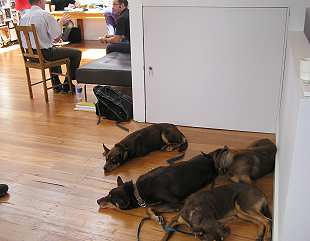 INFORMATION

HOME PAGE
---
Noonbarra Working Kelpie Stud
Mary and Stephen Bilson.
P.O. Box 1374, Orange NSW 2800, Australia
---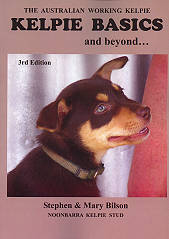 Latest 6th edition of this very popular manual designed for all Kelpie owners of every level from raw beginners through to experienced trainers. This practical manual deals with everything involved in owning and training a Kelpie to ensure he grows up to be a well mannered, obedient dog.
The book is not about training on livestock! It deals with general obedience training, socialising your Kelpie, feeding, crating, toilet training, preventing problem behaviour, dominance issues, car travel, bathing, digging holes, stealing food, walking on a lead, coming when called... and much more.
Over 100 pages.
---
THE ROCKYBAR KELPIES
A GUIDE TO ONE OF THE BEST KNOWN KELPIE STUDS OF THE 20TH CENTURY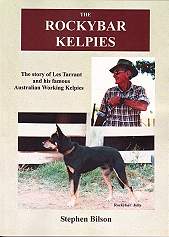 We think this book would be an enjoyable read for anyone with even a passing interest in the Kelpie. It would be a great guide for breeders and trainers with information that is impossible to get anywhere else!
The Rockybar Stud, owned by Les Tarrant, was one of the most famous in Australia for half a century and their influence can be seen in Kelpies all over the world today.
Les Tarrant started with Kelpies in the 1930's. He led a life of droving, mustering and working with horses and livestock. In 1950, he set up the Rockybar Kelpie Stud in the far north-western districts of NSW.
We look at some bush characters and old dog men such as the remarkable priest of Goondiwindi, Father McCormack, Stanley McMaster, Frank Scanlon, Stan Collins, and more. We look at the individual dogs in the old Rockybar lines and the more modern lines (after 1980). We have a huge section on Les Tarrant in his own words explaining how to breed Kelpies and the problems and pitfalls to avoid. There is a good chapter of the book dedicated to how to train Kelpies the Rockybar way. Another chapter is on yard work and yard trials.
There are plenty of photographs and some were very hard to obtain. Many (probably most) would never have been seen by the general public before.
Large A4 format. B/W photos throughout. 166 pages.
CLICK HERE FOR MORE DETAILS & PAYMENT ETC.
---
Information on Kelpie history & the outstanding Kelpies of the past can be found in the new 2006 edition of our book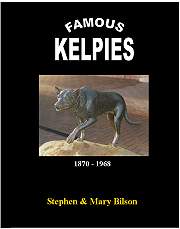 Softcover 136 pages.
CLICK HERE FOR MORE DETAILS & PAYMENT ETC.
---