SALES INFORMATION
HOME PAGE
CUSTOMER REPORTS ON THEIR NOONBARRA KELPIES
PLEASE CLICK ON YOUR REFRESH/ RELOAD BUTTON TO SEE LATEST UPDATES TO THIS PAGE
NOONBARRA KELPIE STUD
AUSTRALIAN KELPIES FOR SALE
Due to our reputation as one of Australia's leading Kelpie breeding Studs, many of these Noonbarra Kelpie puppy litters have early bookings. If you are interested in any of our Kelpie puppies from any litter please let us know as soon as possible and we can tell you if the gender, colour & suitability of a pup in that particular litter is still available. Due to their popularity there is often a waiting period so please book early.
CLICK ON KELPIE DOG NAME BELOW FOR MORE INFORMATION
↓
All our Australian Kelpie puppies bred at the Noonbarra Kelpie Stud get the very best in individual attention, handling, socialising and training. Important too are diet and health issues such as regular worming at 2 weeks, 4 weeks, 6 weeks and 8 weeks of age, vaccinations including Parvo Virus, Distemper, Hepatitis and veterinary examination of each pup. Each puppy is also Microchipped. Some years we only breed a very small number of puppies and often we have months without any puppies, so bookings are extremely important. We still like to keep it as an all family run Stud.
The Bilson family has been involved in breeding & training Kelpies for just on 100 years and over many decades of breeding with three generations of our family, we have bred more than 2,500 Kelpies over nearly a century and this puts us in a unique position that very few breeders can lay claim to. Our Noonbarra Kelpie bloodlines are highly regarded throughout Australia and around the World and our dogs today trace directly back to the great Kalari Basil and Kalari Joker (with more infusions than any other bloodline in Australia) and then the lines trace directly further back to Coil and to the very first great Kelpies of the mid 1800's. All our Kelpie puppies are guaranteed 100% to work by 8 months of age. (WKC Guarantee plus health guarantee). Please book ahead as there is usually a waiting period to get one of our Noonbarra Kelpies. You must book with a $100 deposit if you are serious about getting one of our puppies. See information on deposits below. All our Kelpies are registered with the Working Kelpie Council of Australia.
CLICK HERE FOR OPTIONAL KELPIE PUPPY PACKAGES
DEMONSTRATIONS OF NOONBARRA KELPIES AND VISITS
EMAIL US FOR MORE INFO ON KELPIE PUPPIES
Phone: 02-6366 0499
PLEASE CLICK ON YOUR REFRESH / RELOAD BUTTON TO SEE LATEST UPDATES TO THIS PAGE
Please note that none of our current dogs have ever worked cattle. We don't run cattle anymore and therefore cannot work them on cattle.
INFORMATION ABOUT BOOKING A KELPIE PUPPY AND DEPOSITS.
---

FUTURE KELPIE LITTERS EXPECTED
These matings are expected to be done sometime over the next few months when the females come into season.
In 2016, we expect to mate Noonbarra Honey, Noonbarra Lizzie and maybe also Noonbarra Jenna
---
KELPIE LITTER DUE - Sorry Now Booked Out

NOONBARRA DAVE - NOONBARRA SALLY

Due: 17th November 2015

(Expect all to be Red (brown) and tan in colour.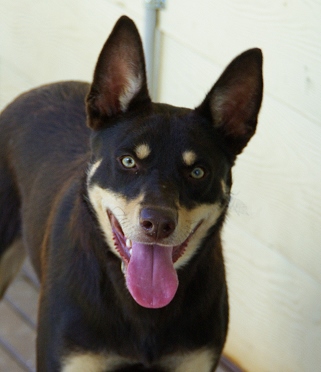 Dave is our youngest sire. His dad is Noonbarra Boss who has already made his mark as a top level sire for us. Dave is very friendly and happy. He was well behaved right from a little puppy and has a zest for life. A nice, affectionate dog who loves to be around you. He can be fast and agile, or calm and settled. Qualities that we value highly.
Dave is a handsome Kelpie and often gets comments when we take him into town. Dave is easy to train and wants to please. He is a very clever dog. He travels well in a car and makes a first class companion dog.
He works on sheep very nicely and can handle either nervous or stubborn sheep. Lovely point of balance and will come in when needed. Good work taking sheep off rails, fences etc. Good in the house and settles well. He has that loyal, faithful nature that we like in all our dogs and gets along with other dogs and animals.
This is Sally's third litter. She's been a fantastic mother and we couldn't be more pleased. If anything, she looks after her pups too well and puts everything into them. We have to feed her constantly at a very high level, just to keep up her condition.
Sally is a lovely sweet girl. Very affectionate and has a real happy personality. She just loves to be with you and whatever you are doing. Sally's mum is Nell, and her dad is our wonderful sire, Ned. She has some superb breeding behind her. She's a clever little thing and a nice dog to have as a companion. She is very loyal and the type of dog that wants to be around you and part of what you are doing. She settles well and is a good kennel dog and house dog. She can also be fast and agile and we expect her offspring to inherit this as well.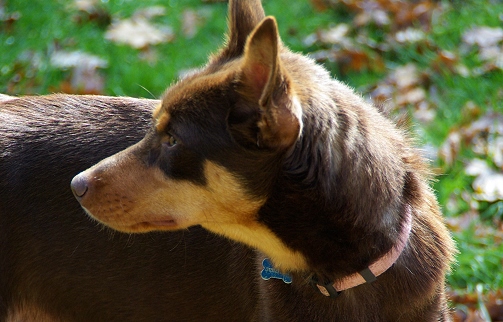 Noonbarra Sally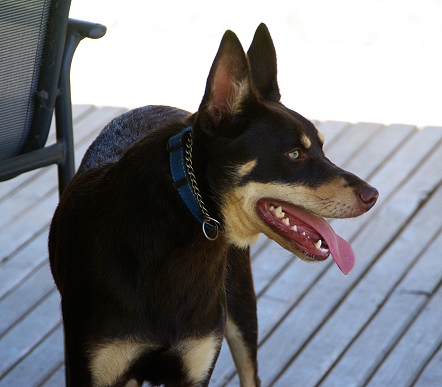 Noonbarra Dave - A very handsome Kelpie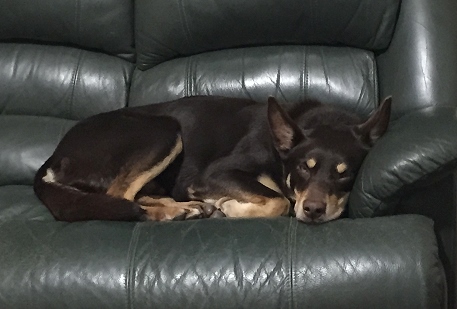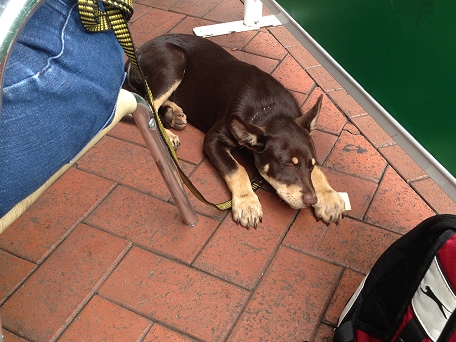 Noonbarra Dave as a puppy - asleep at cafe. (even with all the traffic noise)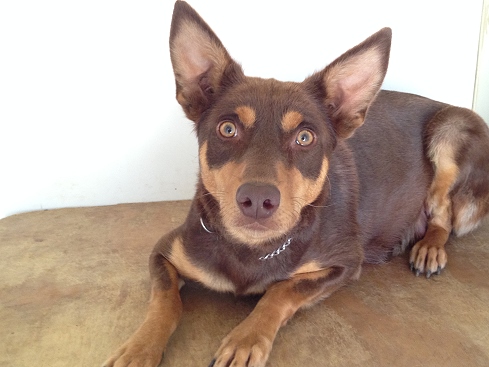 Noonbarra Sally - A sweet young Kelpie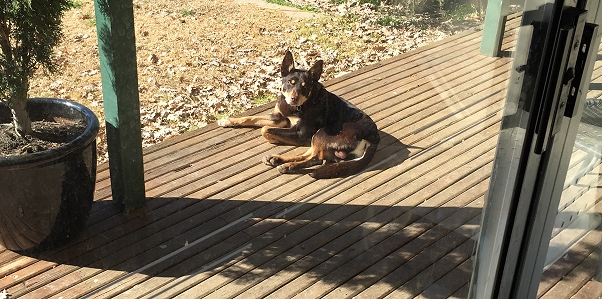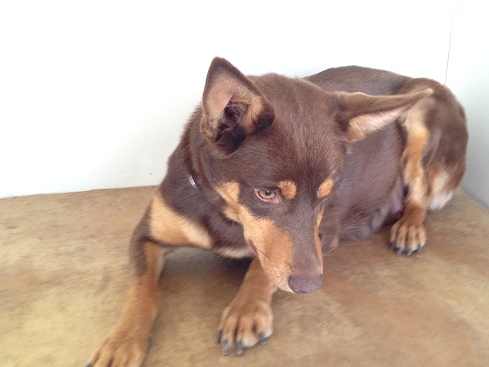 Noonbarra Sally on top of her kennel recently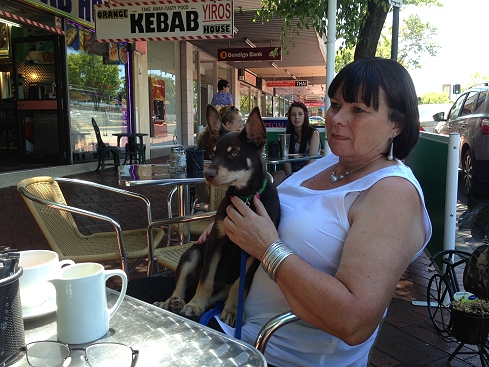 Noonbarra Dave (when he was a puppy) at a cafe with a friend of ours.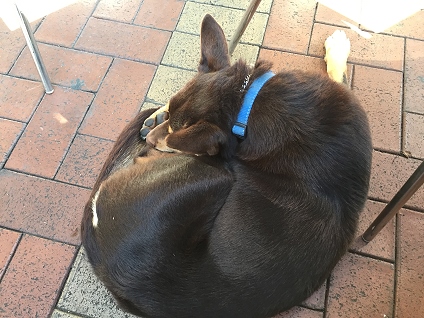 Dave recently at a cafe - 2015
PRICES FOR 8 WEEK OLD PUPPIES FROM THIS LITTER
These Kelpie Puppies ... $950 (pickup price)
(See training packages for pups being flown)

See puppy training packages & additional customer information
Price include all vaccinations against serious dog diseases, Parvo/Distemper and Hepatitis. These puppies will also be Microchipped. They will be Vet checked, given regular worming, registration with W.K.C. in National Stud Book for Purebred Working Kelpies, also have a Noonbarra Dog folder and Kelpie information.
---
NOONBARRA JIM - NOONBARRA ELLIE
Due: very end of December or first few days of January 2016
All Red (brown) and Tan coloured puppies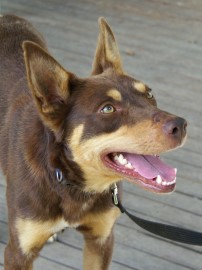 This will be Ellie's first last litter. We have a lot of bookings for this litter and it may already be booked out. Of course it will depend on how many pups she has. Usually first time females only have small litters but earlier this year we had a first time female have an amazing 10 pups! She raised them all well too. So anything is possible.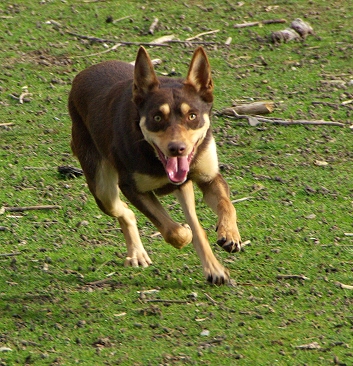 Noonbarra Jim is one of our outstanding young sires. He is one of our calmest dogs and has a very laid back, easy going personality. Excellent house dog or travelling. Ideal at cafes, dog park etc. Likes to be with you. A very calm dog.
He has great breeding. His dad is Noonbarra Ben VIII and his mother is Noonbarra Tammy. Goes back to Noonbarra Jackaroo, Kamileroy Queen and Futura Ned.
His work on sheep is back to the wonderful old styles we started with. Mostly open paddock with beautiful point of balance, style and walk in. Jim is one of our favourite dogs.
His work on sheep is back to the wonderful old styles we started with. Mostly open paddock with beautiful point of balance, style and walk in. Jim is one of our favourite dogs. A great little mate. Jim has given us some absolutely fantastic puppies in recent times and we have a lot of customers that will only have his pups.
Noonbarra Ellie is a pretty little female and has a friendly, happy personality. She too has outstanding natural talent on sheep. She is easy to train and likes to please. She has a very high degree of inherited natural ability. Beautiful smooth work and a real joy to work. Keeps sheep calm and settled and moving along at a nice walk without stress.
Ellie is always a happy little dog. A really lovely dog to own. Good in the house and not too excitable. She has a faithful nature and makes an ideal companion. She can be incredibly fast and agile with excellent stamina. So this could be a good litter for someone wanting a first class Kelpie for dog sports too. This is Ellie's first litter. The combination of these two dogs should give us something quite special, both in terms of temperament and working ability.
We take our breeding program very seriously and over many decades of professional breeding we have a huge practical and first-hand knowledge base about these bloodlines going back many generations and that combined with detailed pedigree information, related litters and our detailed evaluation sessions means that each customer gets the very best puppy to suit them in terms of behaviour, personality and abilities.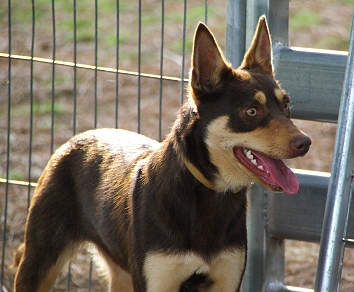 Noonbarra Ellie

We want each puppy to be the best possible match for their lifestyle and situation.

Firstly we work out which litter would best suit and than we do a lot of evaluating of each individual puppy. So, for example, we would match a different dog to a retired couple who are home 24/7 than we would for a young bloke who is very active and needs a running partner or for someone doing dog sports or maybe someone needing a strong willed cattle worker compared to someone with three little kids looking for a soft natured affectionate family dog. Click here to read more on how we evaluate each puppy

All our pups get the best start to life here at the Noonbarra Stud. We think happy, healthy puppies are more likely to be easier to train, are better bonded to their owners and it helps to make them happy, well adjusted adults. We even have a basic puppy training program which includes socialising, exposure to noise, car travel and the beginnings of learning good manners and basic obedience. It also includes (very importantly) comprehensive day by day crate training sessions for each puppy. This is an incredible advantage for our customers. There is a page outlining this training on our website and much more detailed information in our book 'Kelpie Basics'. Click here for more about crate training.

Early socialising and handling of puppies makes it all so much easier for our customers. We often have a puppy or two in side on the lounge with us at night watching TV. Our mothers have the highest degree of nutrition when pregnant and after they whelp, so pups are very healthy and Mum is easily able to look after them with no stress.

We handle each puppy day by day, so they get used to human touch and we start to supplemental feed the puppies at 3 weeks of age. They also undergo a full worming program with a Veterinary supplied Fenbendazole based medication, all are carefully checked over by a Vet and each puppy is microchipped and vaccinated against major diseases, so you get the healthiest pup possible. They are well socialised right from the start and that makes them so much easier to handle and train for our customers. It also gives each puppy a strong connection to humans and makes them more affectionate and helps to build a better bond between you.

All the Noonbarra Stud Kelpie puppies are extremely well bred and have their pedigree going directly all the way back to the 1800's and to the very first Kelpie. This litter is related to many famous Kelpies including, Capree Boss II, Avenpart Zondo, Liscannor Pace, Kalari Basil, Glenlogie Lucky, Barambogie Mack and Phils Creek Sam. (These great dogs can be found in the books - 'Famous Kelpies' and 'Kelpie Legends'.