SALES INFORMATION
HOME PAGE
CUSTOMER REPORTS ON THEIR NOONBARRA KELPIES
PLEASE CLICK ON YOUR REFRESH/ RELOAD BUTTON TO SEE LATEST UPDATES TO THIS PAGE
NOONBARRA KELPIE STUD
AUSTRALIAN KELPIES FOR SALE
Due to our reputation as one of Australia's leading Kelpie breeding Studs, many of these Noonbarra Kelpie puppy litters have early bookings. If you are interested in any of our Kelpie puppies from any litter please let us know as soon as possible and we can tell you if the gender, colour & suitability of a pup in that particular litter is still available. Due to their popularity there is often a waiting period so please book early.
CLICK ON KELPIE DOG NAME BELOW FOR MORE INFORMATION
↓
All our Australian Kelpie puppies bred at the Noonbarra Kelpie Stud get the very best in individual attention, handling, socialising and training. Important too are diet and health issues such as regular worming at 2 weeks, 4 weeks, 6 weeks and 8 weeks of age, vaccinations including Parvo Virus, Distemper, Hepatitis and veterinary examination of each pup. Microchipping. Some years we only breed a very small number of puppies, so bookings are extremely important. We still like to keep it as an all family run Stud.
The Bilson family has been involved in breeding & training Kelpies for nearly 100 years and over many decades of breeding with three generations of our family, we have bred more than 1,500 Kelpies over nearly a century and this puts us in a unique position that very few breeders can lay claim to. Our Noonbarra Kelpie bloodlines are highly regarded throughout Australia and around the World and our dogs today trace directly back to the great Kalari Basil and Kalari Joker (with more infusions than any other bloodline in Australia) and then the lines trace further back to Coil and to the very first great Kelpies of the mid 1800's. All our Kelpie puppies are guaranteed 100% to work by 8 months of age. (WKC Guarantee plus health guarantee). Please book ahead as there is often a waiting period to get one of our Noonbarra Kelpies. You must book with a $100 deposit if you are serious about getting one of our puppies. See information on deposits below. All our Kelpies are registered with the Working Kelpie Council of Australia.
CLICK HERE FOR OPTIONAL KELPIE PUPPY PACKAGES
EMAIL US FOR MORE INFO ON KELPIE PUPPIES
Phone: 02-6366 0499
PLEASE CLICK ON YOUR REFRESH / RELOAD BUTTON TO SEE LATEST UPDATES TO THIS PAGE
Please note that none of our dogs under 6- 8 years of age have ever worked cattle. We don't run cattle anymore and therefore cannot work them on cattle.

INFORMATION ABOUT BOOKING A KELPIE PUPPY AND DEPOSITS.


---

FUTURE KELPIE LITTERS EXPECTED
These matings are expected to be done sometime in 2014 when the females come into season.
In 2014, we expect to mate Noonbarra Rosie, Noonbarra Angie and Noonbarra Tammy.
---
ADULT KELPIES AND YOUNG STARTED KELPIES FOR SALE
---
---
KELPIE LITTER DUE

Noonbarra Brock X Noonbarra Tammy
Born: 14th August 2014
Tammy had 6 red & tan male puppies. SORRY SOLD OUT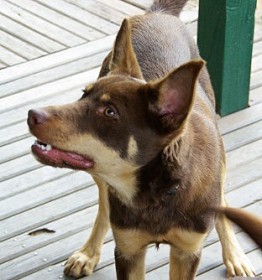 This is a lovely litter. Two wonderful parents. These pups would make ideal companion dogs. Both parents are friendly and have a lovely softness and well behaved. Customers often say how nice they are. This is the first time we have done this mating.
We expect exceptional ability and good keenness on stock. Judging by the parents, these dogs should have a great sense of play and fun. These dogs should be fast and agile as well so would be ideal for any of the family fun dog sports that are so popular now. Both parents have fantastic temperaments and are very outgoing and friendly. This is a very nice mating and will produce easy to handle dogs that suit our small farm customers and our companion customers who don't have a lot of dog training experience or customers who prefer dogs that are not too hard or too strong willed.
We expect these pups to be reasonable sized, clever dogs and very loyal natures. We expect very versatile workers with a very high degree of inherited ability. Good eye and style and working in both paddock & yard.
Noonbarra Brock is a young sire by Ameroo Ned and Noonbarra Emma. He was a superb dog right from a puppy. Very easy to handle and adapted to new situations well. Always happy and a devoted type.
He has been a joy to own. A dog who is faithful, easy to train, friendly, wants to please and very intelligent. He travels well, and adapts to new situations easily. His breeding goes back to many of the great Kelpies in Australia. He has a great temperament and is a very happy dog.
The combination of Brock and Tammy should give us very nice pups with wonderful temperaments, good with kids, versatile workers. Happy, friendly gentle dogs suitable for family companions, dog sports, yard trials and most farm work.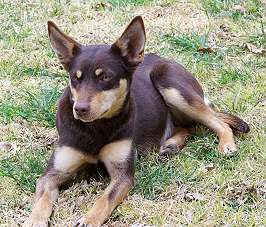 Noonbarra Tammy is a soft natured, small female that just loves to be with us. She is beautifully structured and a good looking Kelpie. She is by Noonbarra Max from Noonbarra Jessie so she brings in some of our best dogs there. This is Tammy's second litter. The combination of these two dogs should give us something quite special, both in terms of temperament and working ability.
She has a very high degree of inherited natural ability. Beautiful smooth work and a real joy to work. Nice distance and doesn't stress the sheep. Keeps sheep calm and settled and moving along at a nice walk without stress. She is well behaved indoors and a good travelling dog. She's a very clever dog and has a happy personality. She's a pretty little female and has a lovely, calm personality. She too has outstanding natural talent on sheep. She is easy to train and likes to please. Good in the house and not excitable. She has a faithful nature and makes an ideal companion. She can be incredibly fast and agile with excellent stamina. Brock is also very agile, so this could be a good litter for someone wanting a first class Kelpie for dog sports too..
PRICES FOR 8 WEEK OLD PUPPIES FROM THIS LITTER
These Kelpie Puppies ... $950
(pickup price)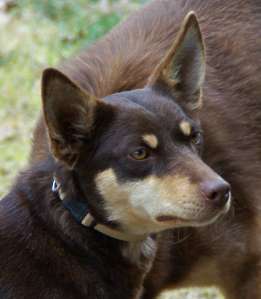 Noonbarra Tammy
See puppy training packages and additional customer information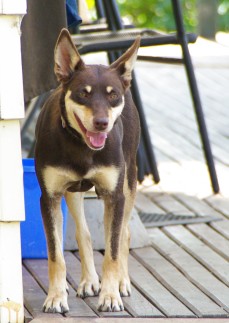 Price include all vaccinations against serious dog diseases, Parvo/Distemper and Hepatitis. They will be Vet checked, given regular worming, registration in National Stud Book for Purebred Working Kelpies, Noonbarra Dog folder and Kelpie information. All our Kelpies are microchipped.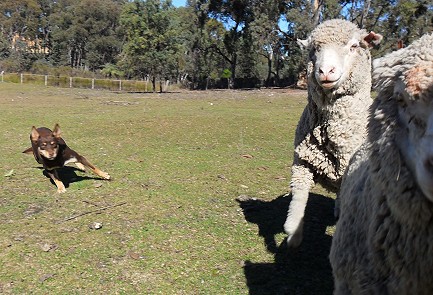 ---
Noonbarra Jim X Noonbarra Roo
Born: 13th September 2014. Five (5) Red (Brown) & tan male puppies
Noonbarra Jim is one of our outstanding young sires. He is one of our calmest dogs and has a very laid back, easy going personality. Excellent house dog or travelling. Ideal at cafes, dog park etc. Likes to be with you. A very calm dog. He has great breeding. His dad is Noonbarra Ben VIII and his mother is Noonbarra Tammy. Goes back to Noonbarra Jackaroo, Kamileroy Queen and Futura Ned
His work on sheep is back to the wonderful old styles we started with. Mostly open paddock with beautiful point of balance, style and walk in. Jim is one of our favourite dogs.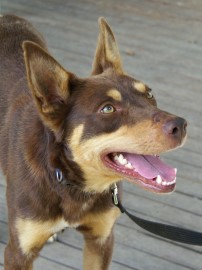 Noonbarra Roo (Roobie) is a lovely young Kelpie we bred but we do not own. We have leased her back just for this litter. This is her second litter to Jim. We have Noonbarra Jillaroo here from last litter.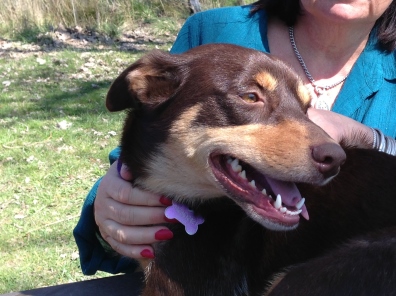 Roo is an extremely intelligent dog and her owner often shows her off with a number of tricks that she has learned. A very affectionate dog and a great companion. Roo's mum is Noonbarra Bess, so the pups are quite similar to the Jim - Bess pups we recently had here.
Roo has a lovely nature and is a great house dog. Owner lives in house in Orange. (not on a farm). This combination with Jim as the sire will give us some great pups. Roo is mainly a family companion dog but she also comes out to the farm and works every now and then. She's an excellent yard dog and backs sheep with ease. She can control stubborn or aggressive sheep and can come in close on fences or yard rails when needed. She has a good degree of inherited natural ability. Roobie is a wonderful house dog and is well behaved as a companion dog and when travelling. Good in the house and lives in harmony with half a dozen pet ducks and chooks which sometimes eat out of her bowl at the same time as she does with no problems. She has a faithful nature and makes an ideal companion.
.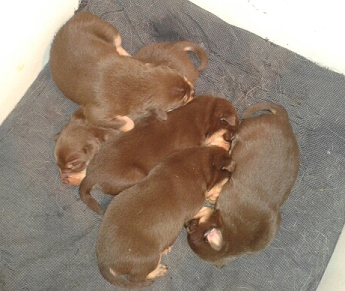 .
Roo's last litter
PRICES FOR 8 WEEK OLD PUPPIES FROM THIS LITTER
These Kelpie Puppies ... $950
(pickup price)


(See training packages for pups being flown)



See puppy training packages & additional customer information
Price include all vaccinations against serious dog diseases, Parvo/Distemper and Hepatitis. These puppies will also be Microchipped. They will be Vet checked, given regular worming, registration with W.K.C. in National Stud Book for Purebred Working Kelpies, also have a Noonbarra Dog folder and Kelpie information.
---
SECURE BOOKINGS WILL BE HELD ON $100 DEPOSIT.
CLICK HERE FOR OPTIONAL KELPIE PUPPY PACKAGES
---
MORE NOONBARRA KELPIE PUPPY SALES INFORMATION
LOCATION OF THE NOONBARRA STUD
---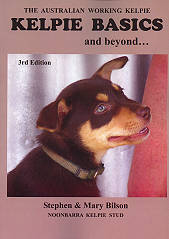 Latest edition of this very popular manual designed for all Kelpie owners of every level from raw beginners through to experienced trainers. This practical Kelpie manual deals with everything involved in owning and training a Kelpie to ensure he grows up to be a well mannered, obedient dog.
The book is not about training Kelpies on livestock! It deals with general obedience training, socialising your Kelpie, feeding, crating, toilet training, preventing problem behaviour in your Kelpie, dominance issues, Kelpies and car travel, bathing, digging holes, stealing food, walking your Kelpie on a lead, coming when called... and much more.
Over 100 pages.
Click here for more Kelpie Basics details
---
COLOURS
With our breeding lines, we mostly get red & tan puppies. The coat is a brown colour with tan markings on legs etc. (See photos above). Sometimes we also get Black & tans, Fawn & tans and the occasional cream Kelpie. We have only had two blue/grey in the last 15 years and no masked Kelpies for more than 10 years. See photos and more information on rarer colours at ....
---
KELPIE PUPPY PRICES (In Australian Dollars)
Young Kelpie puppies. (Vaccinated against serious infectious diseases - Distemper, Hepatitis, Parvo Virus, /wormed/Stud registered WKC/ Vet checked/ Kelpie Puppy Folder, Microchipped etc. )
Puppies at 8 weeks of age .... $950 (Australian Dollars)
These prices are basic pickup price only. These prices don't include any puppy training or crates or special export arrangements, transport, special veterinary requirements etc. Puppies at 9 weeks of age are $50 more.

[Add basic training package and crate price for pups being flown interstate. See puppy training packages]
Started young Kelpies are usually around $1200 - $1500.
Well started Kelpies are usually $1800-$2500
Fully trained adult Stud kelpies are very rarely available but can range up around $3,000 - $6,000.
A lot of time goes into training and to give you some idea, a few Stud Kelpies have been offered up to $20,000!
See individual Kelpie dogs, puppies and litters for exact pricing.
---
KELPIE PUP PRICING
Prices listed here for Kelpie puppies are for 8 week old pups only.
If you want us to hold a pup for you longer than the standard 8 weeks, we charge an additional $50 per week for pups at 9 weeks of age and a further $50 for pups at 10 weeks of age. We can only do this when we have enough time to be able to devote to the puppy. We do not like to hold puppies more than 10 weeks of age. These prices include the extra worm program. This does not include any crate training, socialising, car trips to city or general training. If you want this then you need a $100 basic puppy training package. No extra charge for basic training in week 9 or 10. So training and boarding for a puppy at 10 weeks is $200. After about 10 -12 weeks (3 months), price usually rises dramatically as this is the main period for training and socialising. Prices for Kelpie pups after 10 weeks will be based on individuals.
---
ADULT KELPIES - OLDER PUPS AND STARTED YOUNG DOGS AVAILABLE
---
CLICK HERE FOR OPTIONAL PUPPY PACKAGES
VISITING TIMES AND DEMONSTRATIONS OF NOONBARRA KELPIES
GO TO STEPHEN'S SEPARATE DOG TRAINING WEB SITE
CLICK HERE FOR INFORMATION ON BUYING A NOONBARRA KELPIE
---
EMAIL US ABOUT OUR KELPIES NOW
---
Information on Kelpie history & the outstanding Kelpies of the past can be found in our book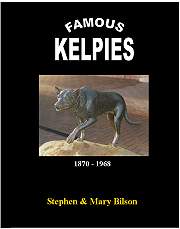 Softcover 136 pages.
CLICK HERE FOR MORE DETAILS & PAYMENT ETC.
---
Noonbarra Working Kelpie Stud

Mary and Stephen Bilson.

'Bimaru', 539 Lookout Road, Mullion Creek via Orange
Postal Address: P.O. Box 1374, Orange NSW 2800, Australia
Ph. 02-6366 0499

Email us
---
I
MPORTANT:
You must make a booking to be considered for a puppy from an upcoming litter. We get many hundreds of calls and emails. A deposit separates the customers who are really serious about getting a Noonbarra puppy. Deposits are $100. Once we have your deposit, you go on a special list that we continually refer to in order to match you to a great little puppy. We discuss your needs and your lifestyle and try to get you a 'perfect' match. Along with your deposit please send as much detail as possible and a phone number to discuss it with you in more detail.
Deposits can be paid with Paypal, Personal Cheque (Aust only), Cash, Direct Deposit, Money Order.
Let us know as soon as you have made a payment as in some cases we are not informed by Paypal or bank and we want to get your booking signed in as quickly as possible so you don't miss out.
Click here to Email us or Phone: 02- 6366 0499
Please send cheques, money orders etc. to:
Mary and Stephen Bilson
Noonbarra Kelpie Stud
P.O. Box 1374, Orange NSW, Australia 2800
Direct deposit is; Reference: (Your name)
Account name: Noonbarra
St. George Bank. Australia.
BSB: 112 879
Account: 0396 195 64

Our bank branch is
St. George Bank, 183 Summer Street, Orange NSW 2800 Australia (The BSB number should tell them that address)
St George Bank Head Office is St. George House 4-16 Montgomery Street, Kogarah. New South Wales, 2217. Australia.
Our Noonbarra Stud address with St George Bank is PO Box 1374, Orange, New South Wales, Australia 2800
---
Paypal is very easy and quick. You can even use your credit card over a secure page if you prefer. If you haven't used it before just go to
www.paypal.com
and follow a few simple directions. Our PayPal account is
kelpies@noonbarra.com
So you just make a payment to that account and it is available to us within minutes. (Please contact us when a Paypal payment has been made to avoid any delay in posting your purchases.) Go to
www.paypal.com
to make a purchase with Paypal.
We can also accept direct deposit. This takes approx. 2 business days to be available from our bank. There is no bank charge in Australia but there is for international deposits.
All prices are in Australian dollars
VISITING TIMES & DEMONSTRATIONS AT NOONBARRA KELPIE STUD
LOCATION OF THE NOONBARRA STUD
---
---
ADULT KELPIES - OLDER PUPS AND STARTED YOUNG DOGS AVAILABLE
KELPIE INFORMATION PAGE