INFORMATION
NOONBARRA STUD KELPIES
STUD LOCATION, INFORMATION & LINKS
---
EXTRA INFORMATION FOR CUSTOMERS
SOME ACTIVITIES AROUND THE DISTRICT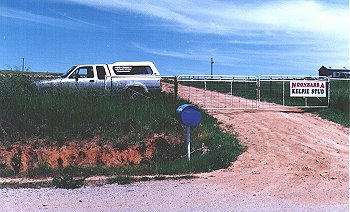 Noonbarra Kelpie Stud is situated in the Central West of New South Wales (NSW) of Australia. We have recently moved from being west of Orange near Manildra to a new small farm at Mullion Creek, just 20 kilometres north of Orange. Approximately 290 kilometres west from Sydney.
This is the same general area that the original Kelpies were bred in the 1800's. Today it is still one of the leading areas for the great Kelpie sheepdog. Our bloodlines can be traced back more than 100 years to many of the outstanding Kelpies before the turn of the century.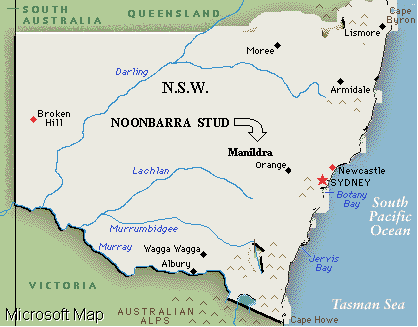 Noonbarra Kelpie Stud
Mary and Stephen Bilson.
'Bimaru', 539 Lookout Road, Mullion Creek via Orange NSW 2800
Postal Address: P.O. Box 1374, Orange NSW 2800, Australia
Ph. (02) 6366 0499


Email us
If you are travelling to the Noonbarra Kelpie Stud from the east (Sydney) you head towards Orange. We are just 15 minutes north of the city. (22 kms). We have recently moved to this new farm which is much closer to Orange than our previous address.
The property name is BIMARU - 539 Lookout Road, Mullion Creek via Orange. Both, the name and road number are on the gate.
You take Burrandong Way from Orange all the way to Mullion Creek. Burrandong Way is a major road to the north of Orange. Mullion Creek is a small satellite area to the north of Orange. It is well signposted. Some people will notice a big sign in a paddock on their left (coming from Orange) that says Rosedale Stud, Mullion Creek. The main part of Mullion creek is a couple of kilometres further on. You will see a council sign welcoming you to Mullion Creek. When you reach the middle of Mullion Creek (where there are a number of small hobby farms scattered around and approx. 16 kilometres from Orange) you turn right at the sign that says Long Point Road and drive over the railway crossing next to the fire station and past the school and drive out along Long Point Road for 1500 metres and then turn right into Lookout Road. It is also the road that has a big sign pointing to Ophir. There are clear signs for Long Point Road so you shouldn't have any problems.
Lookout Road is mostly sealed and is having work done on it but at present still includes about 200 metres of all weather council maintained unsealed road. This is suitable for all cars. We often drive our little Hyundai Getz with no problems. (We know city people sometimes worry about unsealed roads). Noonbarra Stud is on the right hand side. There is a number sign on the gatepost (539) and a sign on the gate that says Bimaru. You can't see the house or kennels from the entrance.
All up, the farm is around 4 km from the Mullion Creek railway crossing.
The farm before ours on the right is called 'Morning' So once you pass that, slow down and as you come down a bit of a hill on the road, and we are on the right. You can't see the house or kennels from the entrance. If you see a property called 'Janelli' with a landscaped rock entrance then you have gone a bit too far!
Burrandong Way is the big main road that goes north of Orange and goes to Burrandong Dam. Most people will be able to direct you to it if you have any problems. There are a number of ways to get to Burrandong Way but the easiest to describe would be ...
If you are coming from the East (Sydney, Bathurst etc.) you can either turn off just before you get to the main shopping strip and follow the signs to the Northern Distributor and turn left once you reach it and go onto the big roundabout on Burrandong Way where you turn to the right.
Or .... you can drive up the main street (Summer St) of Orange through the main shopping area (about 5 blocks) to the round-about at the big High School. Turn RIGHT drive past the school and Duntryleague Golf Club. Stay in right hand lane as you are going to turn right into Burrandong Way. It is clearly marked and is the same road that goes to places such as Euchareena, March and Stuart Town.
All these roads and our own driveway are suitable for big trucks and trailers. There is a turnaround point near the house.
If you are travelling from the south and get to the town of Forbes you head towards Orange not Parkes.
You will be on Escort Way to Orange and as you come into the town, you will pass a car dealership on your left and a golf club on your right. You then come to a T - intersection. You are turning right and an immediate left into Burrandong Way towards Stuart Town, Euchareena etc.
FROM DUBBO DISTRICT
If you are coming from Dubbo or Wellington district, you can do either of two things. You can drive directly into Orange and then out on the Burrandong Way just as you approach Orange or you can save time and cut across at various points on the Mitchell Highway to Stuart Town, Euchareena etc. and get onto Burrandong Way and then head down towards Orange. The turn off to Long Point Road (and Lookout Road) is approx. 16 kilometres north of Orange.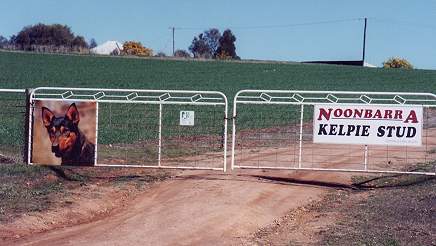 Our entrance at Manildra
Our Noonbarra Kelpies are all kennelled in nice clean concrete runs. Each dog has their own large kennel. The whole structure is protected from wind, sun and cold and has an insulated roof. Our Kelpies also have a large grassed area (correction: used to be grass before the drought) to play in each day. They are never left free on the property unless they are working and under supervision. This way we always know they can't get into trouble. We also know that all our matings are exactly what we write on the pedigree and no other dogs can ever get to our bitches when they are on season.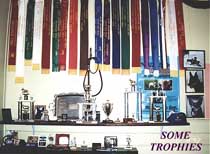 We have had some great success in the past with our dogs. Over the years the Noonbarra Stud Kelpies have won Arena sheepdog Trials, Yard Trials, Utility Trials, Obedience Trials as well as working in TV commercials, movies and given numerous exhibitions. They have been sold as family pets, as farm workers, for trialists, for droving, trucking and everything in between.

NOONBARRA WORKING KELPIE STUD KENNELS
We strongly believe in socialising our puppies. We have a lot of fun with them and enjoy being with them. This gives them a much better start in life and they are better equipped to interact with people and other dogs. We like our dogs to be friendly. To do it right takes a lot of effort and time, but we have seen what a huge difference it can make in the adult dog. This is one of the main reasons we get such great feedback from our customers and have a reputation that other breeders envy!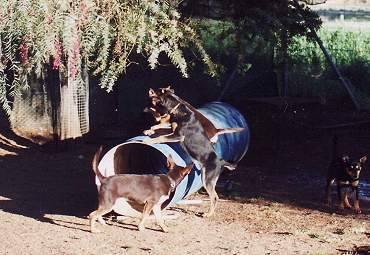 Young Noonbarra Kelpies playing in one of the exercise yards
---


EMAIL US
CLICK HERE TO SEE WHAT PEOPLE SAY ABOUT OUR KELPIES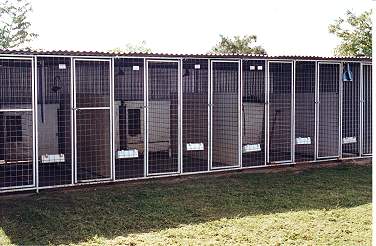 Noonbarra Kelpie Stud DVD
This is our latest DVD. It is a few years old now but shows many of the current dogs and their parents. This DVD shows Noonbarra Kelpies working at all aspects of sheepwork including Droving, Mustering, Sheepdog Trials and Yard work. There are also special sections on Kelpies as companion dogs and pets and a section on Kelpie puppies. It shows our dogs interacting with children and strangers and being indoor dogs. Professionally finished with Titles, commentary and music.
Includes cover case and colour insert. For more detailed info see our video page. Click here.
AUD $15.00 free postage worldwide.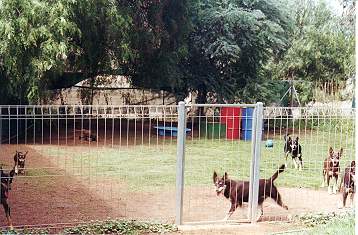 Noonbarra Kelpies in exercise yard
---
Noonbarra Australian Working Kelpie Stud
Mary and Stephen Bilson.
'Bimaru' 539 Lookout Road, Mullion Creek via Orange NSW 2800
Postal Address: P.O. Box 1374, Orange NSW 2800, Australia
Ph. (02) 6366 0499


Email us
---
Information on Kelpie history & the outstanding Kelpies of the past can be found in the new edition of our book
'
FAMOUS KELPIES'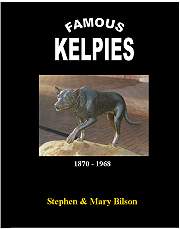 Softcover 136 pages.
CLICK HERE FOR MORE DETAILS & PAYMENT ETC.