NOONBARRA KELPIES AND DOG SPORTS
These days a lot of people are realising that the Working Kelpie has been bred especially for working stock and they know that these dogs are extremely agile, intelligent with lots of stamina and speed and are now buying them to compete in Dog Sports. This is things like 'Obedience Competition' which utilises the Kelpie's intelligence, precision and biddability. Agility Trials which is perfect for Working Kelpies as they have to jump panels in stockyards and run along the backs of sheep.
Then there is 'Flyball' competition which needs very fast, very focussed dogs. Other areas they have gone into are 'Search and Rescue' (Our Kelpies have great scent skills) and for TV and Film work or trick training.
Below are some links to Noonbarra Kelpies sold to customers that have been suitable for these types of pursuits. There are many more that are companions and have done Obedience or Agility too. Some comments can also be found at TRICKS and at AGILITY
See these individual Noonbarra Kelpies
SCAMPER MEGAN II SHEENA OSCAR HUNTER
ATILLA AUSSIE BEEJAY BINDI II GABRIELLE SABER CRUISER COPPER II
GEM KRYPTO KOBE DELBOY JILLAROO II MATILDA II
ROSE JEZEBEL FELIX MATILDA III RUTHLESS MASSEY MUDGEE
Noonbarra Massey PT, JD, AD has just been awarded Top Novice Agility Dog of the Year in South Australia.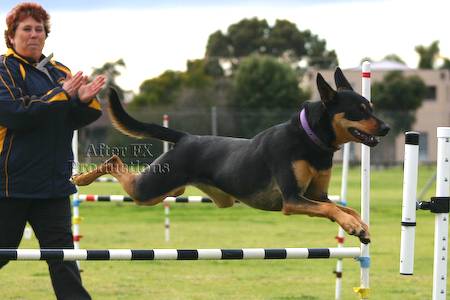 Noonbarra Massey jumping
Update 2007 - Noonbarra Mudgee has WON the Swiss National Agility Championships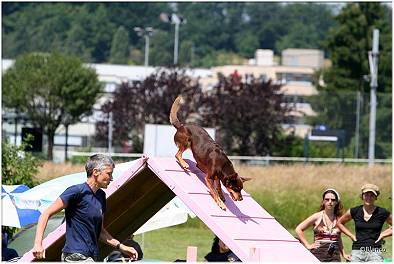 Noonbarra Mudgee in Switzerland