NOONBARRA KELPIES
GENERAL INFORMATION ON OUR STUD
Click here for detailed directions to the Noonbarra Kelpie Stud
---
WHY BUY A NOONBARRA KELPIE?
The Noonbarra Stud is one of Australia's leading breeders of Australian Working Kelpies. Although we are only a small Stud our dogs are well known around the world. All our dogs go back to the wonderful dogs that were first developed in the middle of the 1800's in the centre of the State of New South Wales, not far from where our present Stud is located. We are very proud to say that our Noonbarra Kelpie pedigree papers can be traced in a direct line for more than a century, right back to those very first great Kelpies!
Noonbarra Kelpies are sold all over the World and we get many accolades and glowing reports back from our customers. (See 'Customer Comments' on this web site) Our Noonbarra bloodline has been carefully selected in our breeding program for many decades. We are very passionate about our breeding and we are always striving to improve each and every year.
We are one of the most successful Kelpie Studs in Australia. We don't breed a lot of dogs but our dogs always seem to get a very high profile. We rarely advertise as we have a continuous waiting list and we get a massive number of repeat customers coming back to us each year as well as their friends and family. Very often we get the grown up children of customers who have married and moved away and now want their own Noonbarra Kelpie.
We are a unique breeding Stud in many ways.
Firstly, we are the only Stud currently that does it full time and professionally, rather than as a part-time hobby. It is a full time job for both of us with long hours, 7 days a week and a lot of dedication.
Secondly, we are one of the few Studs that have won awards with our Kelpies in nearly every endeavour such as Yard Dog Trials, Arena Trials, Obedience Trials, Utility Trials and we have done TV and Film work, agility, demonstration and trick training and more. We have also both worked as directors for major Kelpie organisations and have written 5 books on the Kelpie breed including our very popular 'Kelpie Basics'. So we have experience in lots of different training and understand the needs of many customers in different situations.
We are also one of the few Studs where we are also professional dog behaviourists and general dog trainers. We have trained most of the popular pet breeds and many of the lesser known ones. Big dogs and little dogs. We handle problem dogs and general obedience, agility training, sheepdog training and puppy foundation training.
The next thing that makes us very unique is that although there are around 200 breeders of Kelpies in Australia, we are one of only about half a dozen breeders that still linebreed strongly to the old bloodlines and maintain a medium sized Kelpie. (The current fad is for big heavy boned Kelpies). Actually we are one of the few breeders who still know how to linebreed like they did in the past. When we started seriously with the Kelpies, we were still just kids and we were mentored by great old dog breeders in their 80's an 90's like Les Tarrant and Frank Scanlon and Jack Body.
Another thing that makes us quite unique and our dogs in high demand is that we go to the trouble of evaluating each and every puppy and put them through a series of routines and check their responses and how they adapt or if they get stressed or how they relate etc. We start doing this right from the first time we pick up a little puppy and remove him from the others, then when we worm them and it goes on from there. At around 5 weeks to 8 weeks, we start to bring them into the house and into strange environments and gauge their response. We watch their behaviour, their personality, their ability to settle, their dependence or independence, their agility, their ability to work things out or to learn. We see how they relate to us and other dogs, We see how they take instruction or restraint. We expose them to noise. We introduce them to adult dogs. We restrain them. We watch them interact with each other. We might put them into a crate or take them out in the car, or tie them up, and all the time we are observing and handling and writing notes. We compare this behaviour with their parents and grandparents and similar matings by a sister or brother so we have the big picture. We do this with each pup over a number of days so it is very time consuming. On each pup it can take 3 or 4 days or more than a week.
At the same time we spend many days going through our list of customers and trying to get the best possible match for each person. We always have a lot of secured bookings (paid deposits) but it depends on what a customer requires as to how long they have to wait for a pup. Some people may only have to wait a month, others may wait two years. It depends on their requirements, their lifestyle, their experience, what they want to do with the dog etc.
Customers can inspect a litter if they want (only after they are vaccinated) but we don't allow customers to come and pick their own pups out of a litter.
That is unusual. Most breeders we know of in Australia use the 'show dog' method of selling pups, where people come and choose a pup themselves. With show dogs, this method is used because temperament, behaviour, intelligence, stamina, personality, biddability, calmness, agility, intelligence, faithfulness, gentleness, adaptability, scent ability and all the special little things we choose for are not important at all! There is only one choice - that is for colour and markings!
So it seems to us very strange that customers with little or no knowledge of dog behaviour, choose a dog based on a whim when that pup is a long time commitment. Many then want the dog THEY picked to be guaranteed to perform to their requirements. We think it is like a person who goes to a car dealer and says they have 6 children and want a vehicle that will suit them. The dealer is thinking about the nice minibus he has and says he can fix them up and then they choose a two seater sports car. Totally unsuitable!
Another reason we don't allow customer to just blindly pick out pups is that we often have customers waiting years for special requirements.
At the time of writing, one customer is waiting for a cream female and has now been waiting abut 18 months and will probably wait at least another 6 months. Another is an overseas customer that needs a professional rescue dog and has to have the top level scenting ability along with a lot of other high end traits. This type of dog would not suit 90% of our customers but someone could come and pick that pup and the customer who has been waiting more than a year misses out and the customer who picked the pup themselves also gets completely the wrong dog. No one is happy.
We would choose a very different puppy for a retired couple who are at home all day and want a gentle, soft dog who is very calm and will be happy to go at a leisurely pace, then we would for a 20 year old male in a hotted up Ute and wants a dog to be full on. And a different pup an National level Agility competitor who needs a dog that can jump and climb and be fast and high drive (that type could be a disaster for a suburban family). We would choose a different dog for tough cattle work in hard country than we would for a young couple with little children who need a gentle, faithful type of dog. Very precise dogs for high level competition also tend to be very strong-willed and often need constant top up training to maintain that level of precision and to win. Arena Sheepdog Trials require a different type of dog again. Very different from someone who wants to do Yard Dog Trials.
We evaluate each puppy and then we sent photos to the customer and tell them a little about the character and behaviour of the puppy as well as what we expect in the adult based on our assessment and the knowledge we have of the bloodlines and of the parents, all the way back to great-great grandparents etc. Also other litters we may have done that were repeat litters or similar or what is known as reverse matings. The customer always has the option of not taking any puppy we offer. We want each customer to be 100% happy.
Often a customer changes their mind and wants a puppy of a different colour or maybe a different gender or even prefers a different litter. Sometimes we change things ourselves. We might advise a customer that we don't think a particular litter or an individual puppy is the right match for them and advise against it. We work very hard and long hours in an endeavour to ensure to the best of our ability that each customer gets a good puppy that will suit them.
Many people think a 'Kelpie is a Kelpie' and they should all be the same, but that's definitely not the case. There are many breeders of Kelpies in Australia (and overseas). Some are very good, some are terrible and most somewhere in between. Experience counts for a lot as does customer testimonials. Customers should do some research and be aware of the differences between breeders as well as the various traits in each established line. According to studies done both here in Australia as well as in America, the average dog breeder only stays in business 3 - 5 years. We have been breeding and training for three generations of the Bilson family and are one of the longest established registered Kelpie Studs in Australia. We are very passionate about what we do and we do it it full time 7 days a week.
If you want a top quality dog then we suggest you go to an experienced professional breeder and try to avoid any breeding that is all over the place with no real selection process for important qualities. Also try to steer clear of any breeders that cut corners to save money such as not vaccinating, worming or socialising or feeding poor quality food, not giving after sales advice etc. Watch for disease. Some don't tattoo or register. Some call themselves Studs but are not. Check with the W.K.C registry. Don't deal with anyone desperate to sell unless you are sure of what you are getting. Check the breeding etc.
As amazing as it sounds, some Kelpie breeders don't even use their own dogs for breeding and when you look at the pedigree, you will see that their own Stud name is barely (if at all) listed! If their own breeding is not good enough for them, (and they have to continually buy from other Studs) then why should it be good enough for you?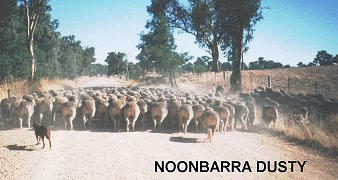 We are a very successful breeding Stud because we have managed to breed consistent high class dogs over a long period of time with 100% all workers and good natured, friendly, intelligent dogs. We have maintained a degree of style in our dogs as well as nice stock distance and reinforced other traits such as controlled walk-in strength without aggression and biting. We have bred our Kelpies so that they will allow stock to settle and not continually upset them while still showing a strong presence and the power to move even the most stubborn and difficult stock. Our Noonbarra Kelpies are extremely keen and don't give up and unlike some breeding seen today, they are not overexcited and are bred to be naturally very calm.
They have friendly personalities and are more biddable (easy-to-handle) than many other Kelpie lines. We love our dogs and they are all good mates, this makes them a joy to work with. This is one of the main points in our selection process. We will not buy in or use outside dogs that do not have a terrific temperament. Noonbarra Kelpies are very intelligent and we have also reinforced their problem solving ability and this has been documented many times by our customers.
All these wonderful attributes did not happen by accident. We spent a huge amount of money and time over many years improving our bloodline until we got them to the level they are today. We are very proud of what we have achieved. We now have some of the best Working Kelpies in the world and we often supply Stud breeding stock for other breeders, both in Australia as well as overseas.
AFTER SALES SERVICE AND SUPPORT
We try to help each customer as much as possible once they have bought their Noonbarra Kelpie. We have produced an excellent manual to general training for all Kelpies and we are working on a similar DVD. We also run individual and group training sessions at the Noonbarra Stud. We also address any questions our customers have via email or telephone. Below is a email from one of our customers.
May 2006
THANK YOU FOR YOUR WONDERFUL SERVICE
Dear Mary and Stephen,
Just a short note to say thank you for your excellent service.

We have now owned our Kelpie, Mani for nearly two years. Beside the
fact that she has the loveliest temperament and is bursting with good
health- a credit to you and your stud - we have found that whenever we have
any queries or concerns, you always assist with great advice and/or
just plain encouragement.

I have and will continue recommending your stud to others who want a
fantastic companion dog, and breeders that really care about their
dog's wellbeing even after they go to their new homes.

Kind regards, Vicky Muscat
---
NOONBARRA KELPIES AS COMPANIONS AND PETS
Our Noonbarra line of Kelpies are bred to be calm, easy -to-handle and obedient. They have a very high degree of intelligence and a very faithful nature as well as being friendly with people and are particularly good with children. This makes our dogs easier to work with and also accounts for the growing number we have sold as outstanding companion dogs to city and suburban homes around the world.
Noonbarra Kelpies are now working in Sheepdog Trials, Obedience trials, Agility training, Trick training, Frisbee Competitions, TV work, Search and Rescue, Flyball and more. We have even been approached to supply a hearing therapy Noonbarra Kelpie for deaf people.
We have piles of letters from customers that bought Noonbarra Kelpies as companions. Some of these are listed on this web site and we are very proud of how our Kelpies excel in a family situation. Some families have even bought a second Noonbarra Kelpie or recommended our dogs to their friends or relatives.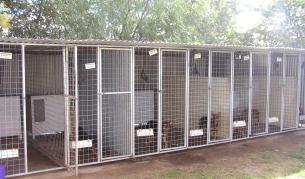 Some of our Kennels at Noonbarra Stud.
The roof of the runs is insulated and the kennels are insulated so are warm in Winter and cool in summer. Every dog has time with other dogs in one of our exercise yards and every dog gets a turn at being a inside house dog.
---
SHEEPDOG TRIALS AND CATTLEWORK
We have bred Local, State and National Australian Sheepdog Trial Champions as well as winners of Yard, Utility and Arena Sheepdog Trials. Our Noonbarra Kelpies are clever, stylish and versatile. That combined with their close relationship to their owner helps them in a trial competition.
Noonbarra Kelpies have a very good reputation for working cattle and some have gone to large cattle Studs. Because our dogs are strong and don't have a lot of aggression they are ideal for working Cattle without spooking them. Noonbarra Dusty, Megan, Valerie, Butch, Ram, Smart, Gabe, Tina, Flash etc. have all been very good Cattle workers. However, we no longer run any cattle and none of our younger dogs are trained on cattle.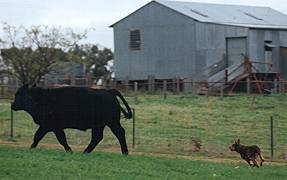 NOONBARRA DUSTY III WORKING CATTLE SOME YEARS AGO IN FRONT PADDOCK
---
WHAT DO YOU GET?
When you buy a Noonbarra Kelpie, you get more than just a dog. We are committed to helping you in every way to get the most suitable dog for your requirements. We are well known for our service and advice. We want every owner to have the perfect dog. After all, it is in our best interests to have our customers happy and telling other people. Our customers have always been our best advertisement!
Once we have your deposit and know what dog you want, we send you out our puppy folder which has pages of colour photos of the parents and grandparents of your pup, Pedigree forms, Vaccination certificates, Kelpie information, Training tips, information about books, and general advice for getting the best from your Noonbarra Kelpie and information on personal one-on-one training with us. This is all presented in a folder so you have everything together. Many of our customers say this puppy kit has been invaluable to them. We see it as a great opportunity to help the customer understand their puppy that much better.
We also offer a lot of after sales service and from time to time send out new tips or training lessons to help you on puppy training program. We are currently putting together a DVD video on 'The Right Start' for our customers. This shows all the basic work with puppies and includes crate training, toilet training, feeding, teaching a pup to walk on a lead, Sit and down command, Stay command, Noonbarra Down - Stay control techniques, come command, preventing chewing, food stealing and climbing on sofas. ..and more. This DVD will be ideal for the companion owner as well as the working person that hasn't had a lot of experience with pups before.
Each Noonbarra Stud Kelpie puppy is wormed every two weeks, vaccinated for Parvovirus, Distemper and Hepatitis, Coronavirus, Leptospirosis, checked by a Vet and has a special Stud tattoo in the ear for identification. The pedigree of Noonbarra Kelpies goes back in a direct line more then a Century. Our puppies are fully registered with the Working Kelpie Council of Australia Inc. and presented at the highest level in their purebred Kelpie Stud Books.
---
WHERE ARE WE?
We are in the Central West of NSW. Australia. Around 4 hours drive from Sydney. We are an 18 minute drive from the rural city of Orange. This area is well known for producing top quality sheepdogs and is not far from where the original Kelpies of the mid 1800's were first developed. Most of our customers make an enjoyable trip and often stop off in the Blue Mountains or stay in Orange and enjoy the restaurants and famous wineries of the district.
Of course many people prefer to do a quick trip up and back in the same day.
Click here for more on our Location
---
BREEDING
We are very proud of the line of quality Kelpies we have developed over the years. We have always strongly believed in breeding our Stud Kelpies along specially selected genetic lines that give us superior working ability and intelligence. Our Noonbarra Kelpies are compatible with each other and that means they have a much higher degree of stability and uniformity in the progeny produced.
The Bilson family has had three generations of experience on properties and in training and breeding sheepdogs as far back as the 1920's with George Bilson and later Max Bilson. Stephen Bilson was bought up with the Kelpies from a child and has been strongly involved in the breeding side for around 30 years.
Stephen Bilson was a director of the Working Kelpie Council of Australia for over six years, was part of the WKC Historical Committee, and was a past director of the International Working Kelpie Club. Mary was a past secretary of the International Working Kelpie Club. Mary and Stephen have written dozens of articles for Australian and overseas magazines on Kelpies as well as five books on Kelpies. They have commercially put out a number of videos/DVD's on Kelpies and are currently working on a new book and video. They have demonstrated their Kelpies throughout Australia and have been asked to do a exhibition at Gunnedah for Ag-Quip this year. They have also been asked to go to Europe next year to run a training School for Kelpies.
Many new Kelpie owners are under the impression that a Kelpie either works or doesn't. Black or white! That however is certainly not the case and there are around 30,000 genes that make up a dog and almost endless combinations. It is this difference that keeps the professional breeders like us in business. For example, some dogs will be excellent at certain tasks such as barking, casting, droving or forcing big mobs, others are reasonable at most things and a small percentage is excellent at nearly every task. Apart from the natural ability the dog has other traits such as thinking power, personality, temperament, biddability, behaviour, speed, obedience, agility and working conformation.
We have a few pages on this site that lists some of the comments and reports our customers have written about our Noonbarra Kelpies. These testimonials now go into the hundreds and we are extremely proud of it and feel it is one of the most important pages on this web site. You can click on the link below or view it later. If you want to continue reading, there is another link at the bottom of the page.
What Our Customers Think!
Over the years we have bred our Stud Kelpies to consolidate our best breeding line. Our Noonbarra line of Kelpies has produced consistent top workers over the years. We have even had many other Kelpie Studs founded on Noonbarra bloodlines and many established Studs have used our breeding lines including breeders overseas.
Because the Noonbarra Stud Kelpies have been linebred by us and others for a number of generations the type and style of our Kelpies is quite consistent and is regarded as our own Noonbarra strain. However if you go back even further to the 1950's you will find most of the breeding goes back to the Kalari Kelpies, in particular, the great Kalari Basil and Kalari Joker. If you take the breeding back further you will find multiple infusions of the famous Red Hope, Don O'Currawang, Scanlon's Flash and one of the greatest kelpies of all time in the 1800's, Quinn's Coil. We can trace our Noonbarra pedigrees in an direct line all the way back to the late 1860's and the original 'Gleeson's Kelpie'. This is well before other sheepdog breeds such as the Border Collie were even formed.
PRICES
These days well bred Stud Kelpies can bring high prices. $5,000 - $8,000 for good Kelpies is not uncommon and a few exceptional Kelpies have had offers up to $25,000. Although we only breed a small number of Kelpies each year, they are often in high demand. We try to keep our prices reasonable and within reach of the average person without having to cut corners or compromise on the quality of the dogs we sell. Our Stud Kelpie puppies still sell from an average price of just $1500. (More details on prices in the SALES section)
---
NOONBARRA KELPIE TRAITS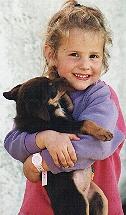 Noonbarra Stud Kelpies are bred to have an inherited natural ability to block sheep and gather them to the handler. They need no training to be able to do this. They have the temperament to be trained easily and the intelligence to learn. We feel this is very important as some dogs have trouble learning. We also aim at producing very calm dogs that work their stock steadily and with patience.
Our Stud Kelpies have proved themselves across Australia over many years. Owning a good Working Kelpie of quality can make a big difference to enjoying your stockwork. The work can be done faster and calmer with less stress on the animals as well as the person handling them. Many farmers have commented that after buying a good Working Kelpie it was the first time they really enjoyed moving their stock. You can rely on these high performance animals to get your job done.
Noonbarra Stud Kelpies are carefully bred to do hard work in tough conditions and are working on a number of huge properties covering many thousands of acres in Australia's outback. We have worked these dogs by themselves on mobs of around 2,000 sheep. Just one person and one dog. Although that type of work with one dog is not recommended, it can be done, at least for short periods.. We have worked much larger mobs with two or three Noonbarra Kelpies.
Temperament, intelligence and natural working ability in our dogs are our main priorities. Everything else comes well behind in importance. These clever dogs with incredible stamina and endurance are the dogs that helped Australia become one of the world's greatest wool producing nations.
We believe one of the areas overlooked by many breeders is the socialising of the pup. To do it right takes a lot of effort and time, but we have seen what a huge difference it can make in the adult dog.
We are very serious and professional about our breeding. As already stated, our Kelpies are very carefully bred from some of the best old bloodlines in this country. We do not believe in doing outcross after outcross to other strains of Kelpies and feel that the breeders that follow that principle do not get the traits they are looking for and do not get any real stability or conformity to their lines. Obviously outcrosses to other top Kelpies may be desired from time to time but we think they should be kept to a minimum.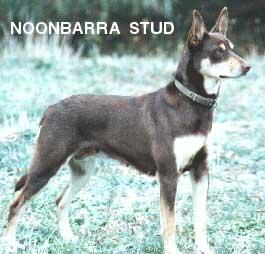 Temperament is extremely important in Noonbarra Kelpies. We feel that a handler needs to be able to communicate easily with their dog. We like our dogs to be friendly and biddable but still retain their toughness, their independent thinking and initiative. We don't like our dogs to be too excitable. We prefer a naturally calm, relaxed personality in our dogs and breed towards this. We want customers to like their dog. It sounds very basic but it is one of the areas often overlooked by some of today's breeders. See our section on customers comments.
Over the years our Kelpies have won Arena sheepdog Trials, Yard Trials, Utility Trials, Obedience Trials as well as working in TV commercials, Movies and given numerous exhibitions. We have done contract stockwork with them and taken them on droving jobs, done shed work and mountain work. They have gone to many different homes. Family pets, farm workers, for trialists, for droving, saleyards, for stockmen, truck work, sheep studs, companions, and everything in between.
---

MORE ON CRATE TRAINING WITH PHOTOS AND SOME CUSTOMER FEEDBACK
---
---
Information on Kelpie history & the outstanding Kelpies of the past can be found in the new edition of our book
'
FAMOUS KELPIES'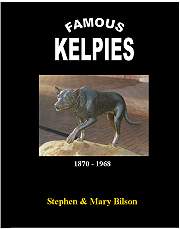 Softcover 136 pages.
CLICK HERE FOR MORE DETAILS & PAYMENT ETC.
---
What Our Customers Think!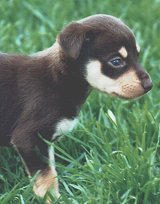 NOONBARRA BUFFY
(Noonbarra Prince X Noonbarra Valerie)
---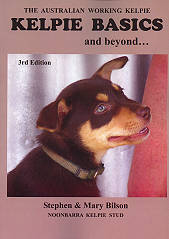 Latest edition of this very popular manual designed for all Kelpie owners of every level from raw beginners through to experienced trainers. This practical manual deals with everything involved in owning and training a Kelpie to ensure he grows up to be a well mannered, obedient dog.
The book is not about training on livestock! It deals with general obedience training, socialising your Kelpie, feeding, crating, toilet training, preventing problem behaviour, dominance issues, car travel, bathing, digging holes, stealing food, walking on a lead, coming when called... and much more.
Over 100 pages.
---
Noonbarra Working Kelpie Stud
Mary and Stephen Bilson.
539 Lookout Road, Mullion Creek via Orange 2800
Postal Address: P.O. Box 1374, Orange NSW 2800, Australia
Ph. (02) 6366 0499

---
THE ROCKYBAR KELPIES
A GUIDE TO ONE OF THE BEST KNOWN KELPIE STUDS OF THE 20TH CENTURY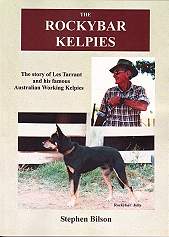 We think this book would be an enjoyable read for anyone with even a passing interest in the Kelpie. It would be a great guide for breeders and trainers with information that is impossible to get anywhere else!
The Rockybar Stud, owned by Les Tarrant, was one of the most famous in Australia for half a century and their influence can be seen in Kelpies all over the world today.
Les Tarrant started with Kelpies in the 1930's. He led a life of droving, mustering and working with horses and livestock. In 1950, he set up the Rockybar Kelpie Stud in the far north-western districts of NSW.
We look at some bush characters and old dog men such as the remarkable priest of Goondiwindi, Father McCormack, Stanley McMaster, Frank Scanlon, Stan Collins, and more. We look at the individual dogs in the old Rockybar lines and the more modern lines (after 1980). We have a huge section on Les Tarrant in his own words explaining how to breed Kelpies and the problems and pitfalls to avoid. There is a good chapter of the book dedicated to how to train Kelpies the Rockybar way. Another chapter is on yard work and yard trials.
There are plenty of photographs and some were very hard to obtain. Many (probably most) would never have been seen by the general public before.
Large A4 format. B/W photos throughout. 166 pages.
CLICK HERE FOR MORE DETAILS & PAYMENT ETC.