NOONBARRA KELPIES
AS PETS AND FAMILY COMPANIONS
We find that people are starting to realise that owning a dog is a real commitment and they are spending more time searching for the right dog. Many have bought their companion dogs from Noonbarra. Most of these have seen how good our dogs are through family or friends and know that all Kelpies are NOT the same.
Even with our own line of dogs we have to carefully select the right litter and the right individual for each customer and sometimes we spend hours day after day trying to make a 'perfect' assessment of each puppy. We love getting feedback from customers and we are very proud of the glowing reports sent to us. We have also had photo albums and framed photos of the dogs they bought sent to us as presents. A lot of people that started out as customers are now our friends and it makes breeding a very satisfactory endeavour. We love to hear your stories!
Below are some links to Noonbarra Kelpies sold to customers that have been suitable for family companions. This is by no means all of them. Even hardened farmers write and phone us to tell us their dog is also a family pet and lives inside with the kids and the cat .
Apart from the individual Kelpies listed here also see KELPIES AS PETS There are many more that are companions and have done Obedience or Agility too. Some comments can also be found at TRICKS and at AGILITY
See these individual Kelpies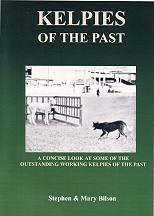 A great little book written by us on well known Kelpies from the past. From Gleeson's Kelpie and Brutus and Jenny right through to the Kelpies of the 1960's. Plenty of old and rare photos.
70 pages...$12.00 plus $1.50 post (Australia)